News
Everyone Loves Fresh Filipino Bibingka!
by Lawrence Carlton on Jul 23, 2022
This popular Filipino Dessert is a staple treat that everyone knows so very well growing up in the Philippines.  Where ever your look in the Philippines you are sure to see Bibingka for sale and ready to make memories!
Traditionally made with rice, savory coconut milk and sugar wrapped in a banana leaf.  It is common to see Bibingka topped with salted duck eggs, cheese or coconut. Each region in the Philippines has their own unique style of making Bibingka a local favorite nationwide! Bibingka has a long history in the Philippines and has become very well known worldwide!
It is believed that Bibingka was brought to the Philippines from China. Well respected Filipino Scientist E. Arsenio Manuel stated that the word "Bibingka" is derived from the syllable "bi".  This means "uncooked rice" in Fookien (Chinese Dialect). Once the Spaniards arrived in the Philippines the well established dessert was integrated into Catholic ceremonies, where it grew in popularity! 
Most commonly the Bibingka is eaten around the Christmas season and especially after the Simbang Gabi.  Often you will discover Bibingka is being sold outside of churches during the nine-day Novena.  Worshippers  will buy them so they can be eaten for breakfast. 
If you are in the Philippines, you will see Bibingka located everywhere and in a wide variety of styles. Some of the most popular types of Bibingka that we will find in the Philippines are:
Bibingka Galapóng - This is considered the traditional form of Bibingka.  Often made from ground and soaked Glutinous Rice, mixed with water and coconut milk.
Bibingkang Malagkít - Often served in square blocks and is very moist and may contain slices of jackfruit.
Bibingkang Mandaue - This type of Bibingka is commonly found in the Cebu region of the Philippines. The Mandaue Bibingka is traditionally made with palm wine, which gives is a slight aftertaste that is tart in nature.
Bibingkay - Often found in Cavite.  This is a unique variant that has a filing of sweetened beans.  The Bibingka is also served with sauce of coconut cream, jackfruit and sago.  The Bibingka is then baked to perfection and served with a Smile :) 
Buko Bibingka - Commonly baked with slivers of young coconut flesh.
Cassava Cake - Is made from grated cassava (instead of rice), coconut milk, and condensed milk.  It is the most like pudding in appearance. May also be known as Cassava Bibingka or Bibingkang Kamoteng Kahoy.
Cassava Buko Bibingka - This is a variant of Cassava Cake that adds young coconut to the recipe. 
Pineapple Cassava Bibingka - Another variant of Cassava Cake that adds crushed pineapple chunks to the Bibingka.
Royal Bibingka - A very popular variant of Cassava Cake often found in Ilocos that is shaped like cupcakes.  Often times it will contain cheese and margarine topping.
Durian Bibibngka - This tasty Bibingka is baked with Durian flesh. A specialty of the Davao Region in Mindanao and a must try!
Salukara - This is a pancake like variant of Bibingka from Eastern Samar. It also uses tuba and is traditionally cooked in pans greased with pork lard.  
Sinukat - Is a type of Bibingka baked in half of a coconut shell.  This is certainly a very unique treat to share with those who love this style of Bibingka!
In the Philippines there are so many great options for your favorite style of Bibingka!  You can even travel from region to region and sample the various types of Bibingka and learn about local customs!  Every Filipino has their favorite type of Bibingka!  The tasty Bibingka will often bring up a wide range of memories that will remind you of home in the Philippines!
What happens when you are not in the Philippines and are craving some awesome Bibingka?  You have a few options to choose from to help you accomplish your goal :)  
In the United States it can be very difficult to obtain quality Filipino Bibingka. Sure, there are do it yourself kits where you can mix all the ingredients and hope for the best.  These are commonly available at a lot of the International Food Markets for a reasonable price.  We have experimented with them and find the taste to be very mediocre.  
We see a wide range of recipes on the internet about how to make Bibingka at home. Some of them are really well written and provide all the necessary ingredients. Others are missing some key steps for making a good quality Bibingka that you would love to serve to your family. 
For the best recipes that we find, we still see a lot of comments about how to bake the Bibingka.  There are also a lot of question on the types of ingredients that should be used.  If you are planning to make a small batch it can be time consuming to source all of the necessary ingredients.
Another major area that can be challenging is adding the yeast to the Bibingka batter.  When do you add it?  For how long must it sit before you can bake it?  If not done correctly, it will lead to flat Bibingka that may not look so desirable to share with loved ones.
It can take a great deal of time to perfect Bibingka to your liking.  If you have the time to experiment with making this popular Filipino Dessert it could be worth your investment.  Everyone loves to share their high quality desserts with their friends and family!  Nothing compares to a great big smile and laughter that is sure to follow with some fresh Bibingka.
For many working Filipinos here in the United States we often find ourselves overwhelmed with daily chores and constant activities.  Finding pre-made Bibingka in our local markets can also be very difficult.  In smaller US cities it can even be downright impossible.  
This is the sole reason we formed  Liz's Filipino Desserts, LLC.  We recognize the options may be limited across the United States. 
Liz's Filipino Desserts was founded by Lizel Carlton and her husband in 2018.  Our goal is to service the Filipino Community in the United States with Fresh Bibingka!  Liz learned how to make Bibingka from her mother starting at the age of 3 years old in the Philippines.  Making Bibingka has been a family traditional for many generations in Liz's family.
As a kid, Liz would walk door to door and sell Bibingka during the Christmas season.  She learned quickly that fresh Bibingka always brought a smile to her neighbors faces! Growing up through high school and college, Liz worked with her mother to perfect her Bibingka baking skills.  Liz became very successful in running a small bakery to service the local community while in the Philippines.
Once Liz moved to the United States in 2008, she often baked Bibingka for all her local friends in Colorado.  Her Bibingka was an instant hit in the Denver area!   After moving to Missouri in 2014 Liz once again started offering Bibingka to all her Friends.  The feedback in the Saint Louis was overwhelming and word of mouth quickly spread.
As the demands for Liz's Bibingka increased, we decided it was time to start a formal business.  This allowed us to offer our Bibingka for sale in local stores and online. So, in September of 2018, we formed Liz's Filipino Desserts, LLC.  This allowed us to formally sell our Bibingka and Suman in local stores such a Pan Asia and Global Foods Market.
In order to reach more of the Filipino Community, we decided to start selling our Bibingka online in December of 2018. We took a lot of time to ensure that our packaging was high quality.  This allow us to ship our Bibingka and Suman via USPS priority mail to anywhere in the United States.  After much trial and error, we finally landed on a solid packaging strategy so we could ship our products.
We take great pride in baking all our Bibingka upon the receipt of a Customer order. We never sell frozen Bibingka to our online Friends, everything is baked fresh and shipped        fresh. 
In addition to shipping fresh Bibingka we also offer a 100% satisfaction guarantee. If the Bibingka is not to your satisfaction, please let us know.   We will work to replace your order or issue a refund right away.
Our goal as a company is to service the Filipino Community with high quality Filipino Desserts. Our initial products are Bibingka, Steamed Bibingka and Suman. We are working very diligently on a few new products at this time.  We will certainly update our website and Facebook pages when they are ready to go. 
We appreciate all our Friends who have supported our business and passed along kind words and reviews. If you like our desserts, please let your friends know so they can also have a chance to try. If you ever find any issues with our products, please let us know immediately.  Our goal is to make it right or refund your money as soon as possible!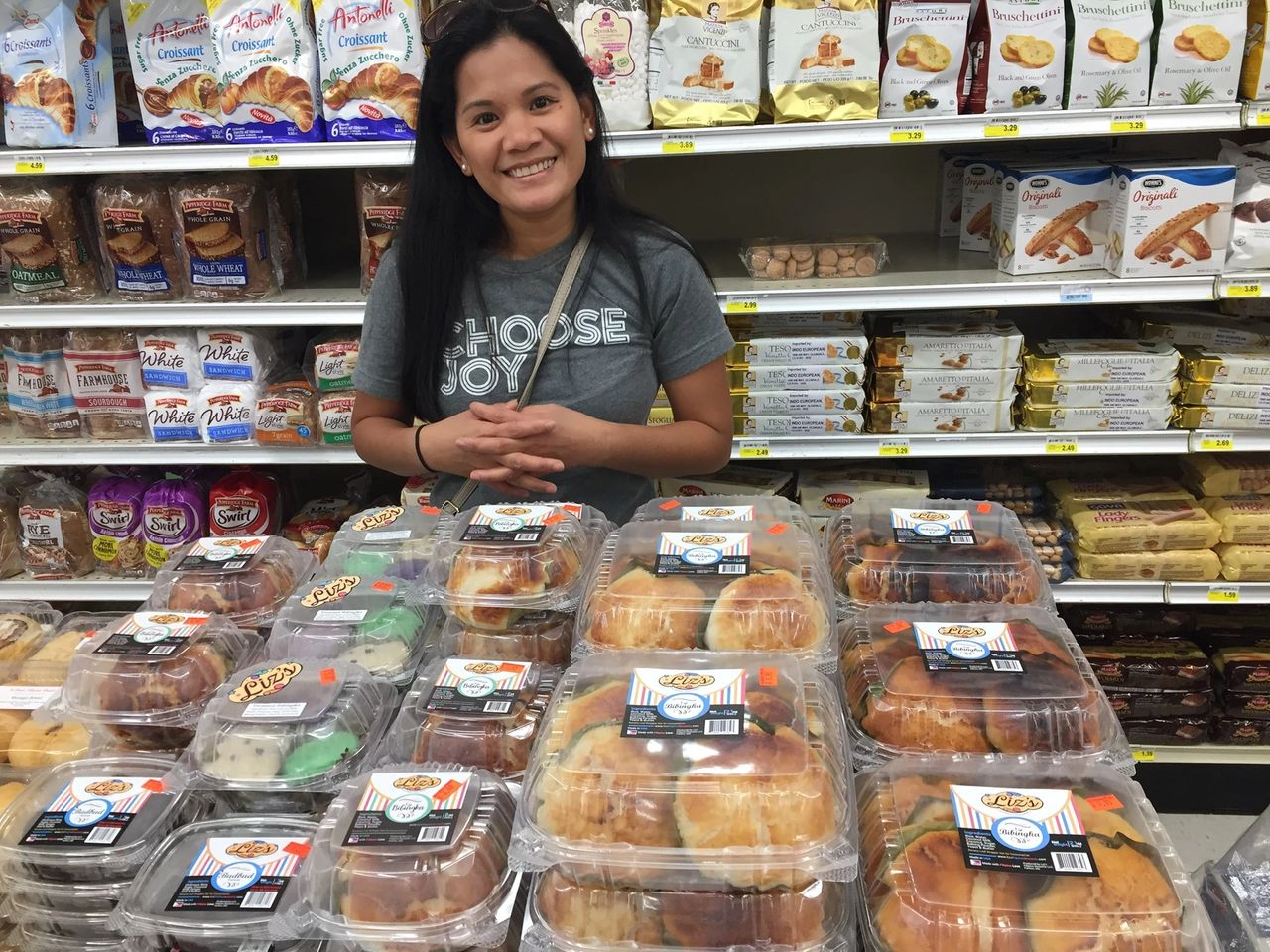 Take Care Friends!
Liz'